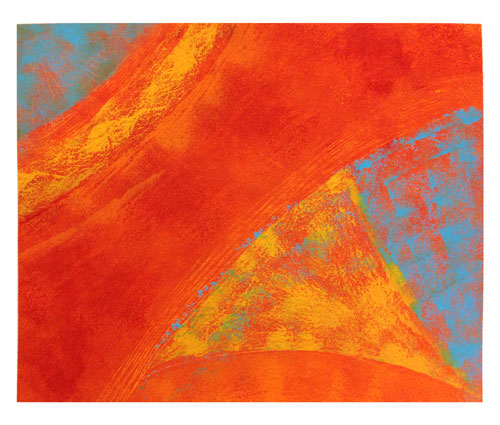 Lately I've been reflecting my transition from pencils to paint.  I think my main influence for using prismacolor pencils was that I had good control of the medium, plus I loved being able to get deep, bright colors other pencils couldn't achieve.
For some reason I am not a brush artist.  I absolutely do not think I control a brush very well … no matter the size.  Well, let me re-word that.  I can control a brush but I don't like the results when I use one most of the time.
When I think back to my prismacolor days, I realize that I liked having that control  Now, for some reason, I have moved on to paint and a freedom in using the paints.  I prefer using most anything as a tool rather than a brush, however.  And, yes, I do utilize rollers of all sizes.  My current paintings are created on both canvas and paper.
Fanticize, 2013,  Abstract painting on paper by Sharon Pierce McCullough