Found Object Sculptures
If you have been following along with my art career, you have certainly noticed that my path of creating art branches out in many directions. Although my focus remains on both paintings and sculpture, my sculptures vary according to my choice of materials.
Since I have always had an interest in finding unusual items that might work well when worked into a sculpture, one of my main series of sculptures are made from found objects. Most of the pieces I am drawn to are old metal, often auto parts or other industrial castoffs. I'm a known junkyard junkie who will never turn down a trip to a junkyard or other similar place to find castoff items. You just never know what unique part will be waiting right around the next corner or on the next trip in search of pieces for sculptures.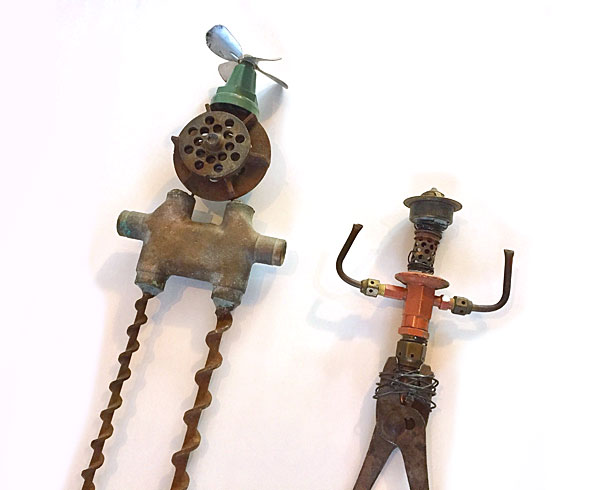 Creating Found Object Sculptures
It often takes years to find the right, compatible objects to make the sculpture that speaks to me. I'm not interested in making "cute" critters but real art objects. Many trips to the outdoor studio and lots of trial with items, along with many days thinking about the design, finally helps a sculpture come to life. Sometimes some of the found objects just seem meant for each other in a short period of time. But many times, pieces are partly paired together, waiting on my workbench until the last few pieces are "found'.
It's a totally different thought process and working process from sculptures made from cement or plaster. But once a sculpture comes together, it is like a birth of sorts.
Since I am not currently a welder, I often make cement bases with metal/ rebar extending from them to attach the sculpture. I then, usually, wire and epoxy pieces firmly together.