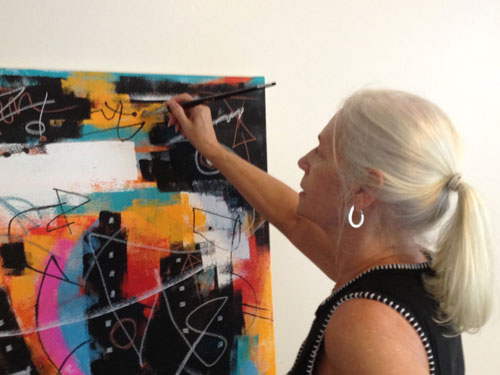 Sharon Pierce McCullough, a multi-disciplinary artist and sculptor, was born in Granite City, Illinois in 1943.
Working as a contemporary abstract painter and sculptor, American artist Sharon Pierce McCullough's work can be defined by her bold use of color.  She works out of her studio in Cashtown, Pennsylvania in an old stone home.
Her art practice attests to her experimental spirit as she explores colors, shapes and textures in many of her ongoing series of paintings.  Never static, her oeuvre demonstrates an artist constantly experimenting with possibility.  Works vary to include geometric, minimal and figurative abstracts. Horses and geometrics are the most recurring themes.
McCullough works in an intuitive, yet intentional, manner, sometimes working from quick sketches but mostly not.  "While I am inspired by painters such as Miro and Klee, I constantly strive to draw from my own inner creativity."
Taking cues from early Minimalism and Color Field painters, McCullough hones her multicolored palette on a continual basis.  "The choice of each color in a painting is often a long process for me.  It can be a defining choice that determines whether a painting is good or great."
In the studio, Sharon toggles back and forth between paintings and sculpture.  The paintings are created on canvas using both acrylics and enamels.  Her sculptures make use of divergent materials such as plaster, found objects and cement.  A small plaster sculpture was on exhibit recently at the Phillips Collection, Washington DC.
McCullough's original artwork is in public and private collections across the United States and Europe.     Inquiries and commissions are welcome.
Artwork Inquiries:
sharonpmccullough@gmail.com
Instagram – @Share333
www.sharonpiercemccullough.com
** Many of  Sharon's early works were published by the New York Graphic Society, with several images still in print.  She is an author/illustrator of many Children's Picture Books.
Save
Save
Save
Save
Save
Save
Save
Save
Save
Save
Save
Save
Save
Save
Save